During training camp of the National team of Ukraine in hand-to-hand combat, which now takes place in Truskavets, Mr. Ivan Oliinyk from Chernivtsi got a certificate of the Master of Sports in hand-to-hand combat. The document of awarding a sports title was handed by Mr. Valentyn Ivashchenko, member of the Council of All-Ukrainian hand-to-hand combat federation and coach of National team in "Full contact" section.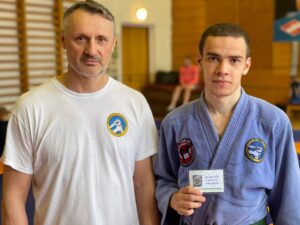 "It is always a pleasure to give well-deserved awards to our athletes. As a coach, I clearly understand how much effort and courage goes into each victory, how hard it is to win. I am glad that the family of hand-to-hand fighters – Masters of Sports of Ukraine is expanding. I wish a lot of success and new personal, professional achievements and achievements in sports", – said the coach of the National team, performing the honorary mission on behalf of the Federation administration.
The representative of Chernivtsi regional branch of the Federation and our hand-to-hand fighter told about his sports successes.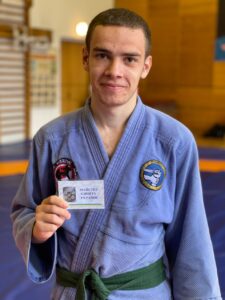 Mr. Ivan Oliinyk, 21 years old, a third-year student of the Yurii Fedkovych Chernivtsi National University:
"I am very proud to be awarded the sports title, because it took me quite a long time to reach this goal. Every year the competition among athletes increases, each victory is more difficult, I have to pay more attention to workouts and work on myself. I was overwhelmed with emotion, when I realized that I fulfilled the standard of the Master of Sports at the competition.
I am proud of my first awards in competition among adults. It was a little difficult for me to make the transition from the juniors to the real masters. Most of all I am proud of my victory at the Championship of Ukraine and the Cup of Ukraine among adults in 2021, where I won prizes.
I am proud to represent Chernivtsi region and my coach Mr. Ivan Kyryllovych Shtefiuk, a wonderful man and mentor, with whom I already train for 7 years. I am sincerely grateful to my coach Mr. Ivan Kyryllovych for his knowledge, for his faith and constant support. Especially I would like to mention and say thanks to all the guys from the "Saigon" Club, and especially to coach Mr. Valentyn Vasylovych Ivashchenko for unreal experience at the camp. Of course, most of all I am grateful to my parents, without whom I would not have achieved these results.
Now I devote myself on 100% to sports and plan to win the World Championship in hand-to-hand combat. We shall represent Ukraine with dignity in our capital city!".
Congratulations to the athlete and his coaches-mentors for high results! Way to go!