In Vyshgorod, on the basis of military unit No.3027, qualification exams of servicemen of the National Guard of Ukraine from different regions for the right to wear a beret with honours were held. A total of 75 candidates overcame complex challenges, including participation in hand-to-hand combat.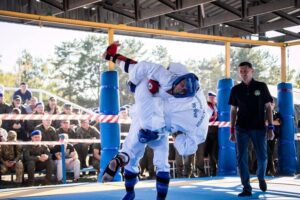 The qualification exam was attended by Denys Monastyrskyi, the Interior Minister, Mykola Balan, the Commander of the National Guard of Ukraine, Yurii Radchenko, the President of the All-Ukrainian Hand-to-Hand Combat Federation, and representatives of the 11th operation "UNIFIER" with the participation of Lieutenant-Colonel Melanie Lake.
"You all are warriors who help to defend the independence of Ukraine. The best evidence of my respect for you is that my children are with me. I want them to follow the example of the best military servicemen who are awarded a beret with honours," said Denys Monastyrskyi.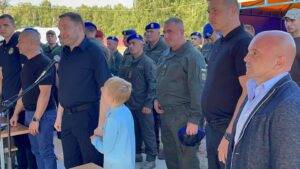 Mykola Balan, the Commander of the National Guard of Ukraine, noted that exams for the right to wear a beret with honours have been improved for the fourth year in a row.
"This beret is the most honourable and authoritative distinction for the servicemen among all existing ones in the National Guard. These are very fair and unbiased exams, and how the soldiers will cover the distance shall be a confirmation of this fact for those present," he said.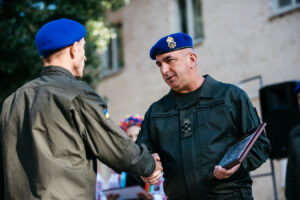 In turn, Yurii Radchenko welcomed the new worthy servicemen to the maroon beret brotherhood. He also thanked all the representatives and referees of our Federation for participating in the event.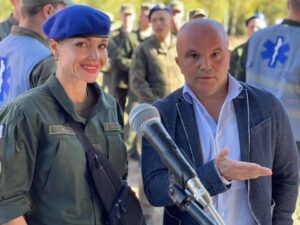 The qualification exam consisted of 3 tests.
I test was a 10-12 km forced foot march in full ammunition on rough terrain with overcoming artificial and natural obstacles: overcoming the obstacle course, meeting the standards for combat training (tactical, fire, military and medical training, solving logical problems, throwing a grenade at a range, overcoming psychological obstacles, performing strength training exercises, performing exercises with a Kalashnikov assault rifle for accuracy).
II test was combat weapon shooting with: performing an exercise with a pistol and performing an exercise with an automatic rifle.
III test was hand-to-hand combat. This task included 2 rounds: performing 5 hand-to-hand combat moves and a duel with the owner of a beret or instructor.
Therefore, 11 persons of the best guards received a beret with honours, among which there was one woman.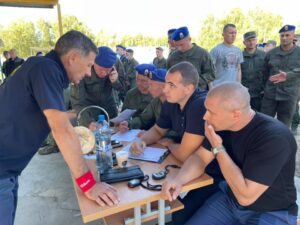 It should be noted that hand-to-hand combat is a comprehensive combat system, the technical arsenal of which includes punches and kicks, throws, submission and chokehold techniques, as well as moves against various types of weapons. This sport has been included in the special training programme of law enforcement officers, military personnel, rescuers and representatives of other special forces of the state.
According to the Department of Communications of the Ministry of internal affairs of Ukraine