A short while ago, hand-to-hand fighters Mr. Dmytro Ilkov, Mr. Oleksandr Rohozhkin and Mr. David Gazaryan were awarded honorary titles of the Masters of Sports of Ukraine in hand-to-hand combat. Each victory, each achievement, each title is a long-term painstaking work. Behind each medal of the athlete stand years of training and work on himself, support and guidance from the coach, as well as the support of the parents.
We decided to ask the athletes about the stories of their success, the difficulties they overcame to get the honorary title, and which achievements they are particularly proud of.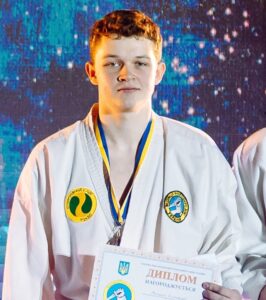 Mr. Oleksandr Rohozhkin, Master of Sports of Ukraine in hand-to-hand combat, student of the Faculty of international economics and management of Kyiv National Economic University named after Vadym Hetman
"After I learned about the title of Master of Sports of Ukraine, I felt a great relief, I was overwhelmed with happiness and pride. Every competition, every fight is a huge emotional stress, the fight not only with the competitor on the tatami, but also with my own fears, will, endurance and stamina. This title is really not easy to get, because now there is a lot of competition, a lot of strong athletes. And that is why you have to work hard on yourself, train more, improve your skills and strengthen your character. It took me more than three years to get this title.
I want to thank my coaches Yurii Anatoliiovych Radchenko and Andrii Anatoliiovych Radchenko for their contribution to my development. Most of all I am proud of the gold medal in the Championship of Ukraine in hand-to-hand combat among adults (Ukrainian senior championship). In near future, I plan to win the World Cup and to get the title of Master of Sports of Ukraine of international class. I believe that in near future I will reach this big goal".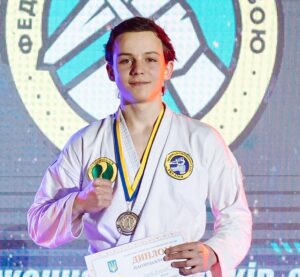 Mr. Dmytro Ilkov, Master of Sports of Ukraine in hand-to-hand combat, 11th grade student of the Ukrainian Humanities Lyceum
"Since I was a kid, I tried myself in all kinds of sports, swimming, fencing, football, basketball and tennis. However, only hand-to-hand combat interested me so much that I have been practicing it for almost 11 years. I've been going to my goal – to be the Master of Sports of Ukraine for a really long time: I participated in all possible competitions, tried not to miss trainings and worked really hard.
During my competitive career, I had three coaches: Oleh Anatoliiovych Bilko, Andrii Anatoliiovych Radchenko and Yurii Anatoliiovych Radchenko. I am very grateful to them for their investment in my development, professionalism and training. After all, thanks to quality training, serious and effective workload I have always been qualitatively prepared for any competitions.
I am especially grateful to my parents, who supported me in all my endeavors. My victories are their contribution and support. Most of all I am proud of my victory at the European Championship. On the same day, my father celebrated his birthday and I think it was the best gift I could give him. I am very proud of my first victory in the Ukrainian senior championship, which was held on March 07, 2021. After all, at the level of Ukraine it is the greatest achievement in hand-to-hand combat.
When I was awarded the title, I couldn't be happier, because after the first competitions I set myself such a goal, and the most pleasant thing for me is to fulfill my goals. Soon Kyiv will host the World Championship, for which I am thoroughly preparing, because this competition is one of the most important in my life.
The team of All-Ukrainian hand-to-hand combat federation congratulates the athletes with awarding sports titles and wishes them new professional achievements and achievements in sport, higher titles and great victories!
It is worth noting that among the achievements of the All-Ukrainian hand-to-hand combat federation there are 15 Honored Coaches of Ukraine, 5 Honored Masters of Sports, 74 Masters of Sports of international class and more than 300 Masters of Sports in hand-to-hand combat already.