All-Ukrainian hand-to-hand combat federation cooperates with military, rescue and law enforcement agencies of Ukraine. After all, hand-to-hand combat is included in the system of professional training of military and law enforcement officers. In constant cooperation we provide training, coaching, comprehensive support in holding various competitions, organize joint sports and patriotic events, in particular the Cup of the President of Ukraine in hand-to-hand combat.
So, quite often the management of the Federation, our referees and coaches are marked with honorary departmental awards as a gratitude for diligent performance of common tasks. Recently the President of All-Ukrainian hand-to-hand combat federation Mr. Yurii Radchenko and Vice-President Mr. Andrii Radchenko were awarded honors "For bravery and loyalty" by the Joint Forces Commander Lieutenant General Volodymyr Kravchenko.
"For diligence, reasonable initiative and conscientious performance of service (combat) tasks in the area of joint forces operation to repulse and deter armed aggression of the Russian Federation on the territory of Donetsk and Luhansk regions", reads the extract from the Order of the Ministry of defense of Ukraine.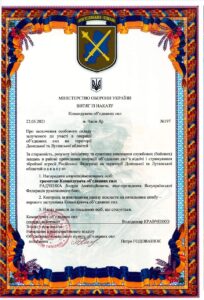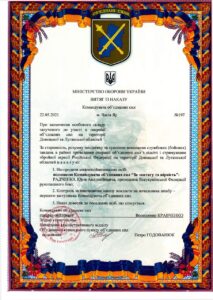 We congratulate Mr. Yurii Radchenko and Mr. Andrii Radchenko on the honorary awards!